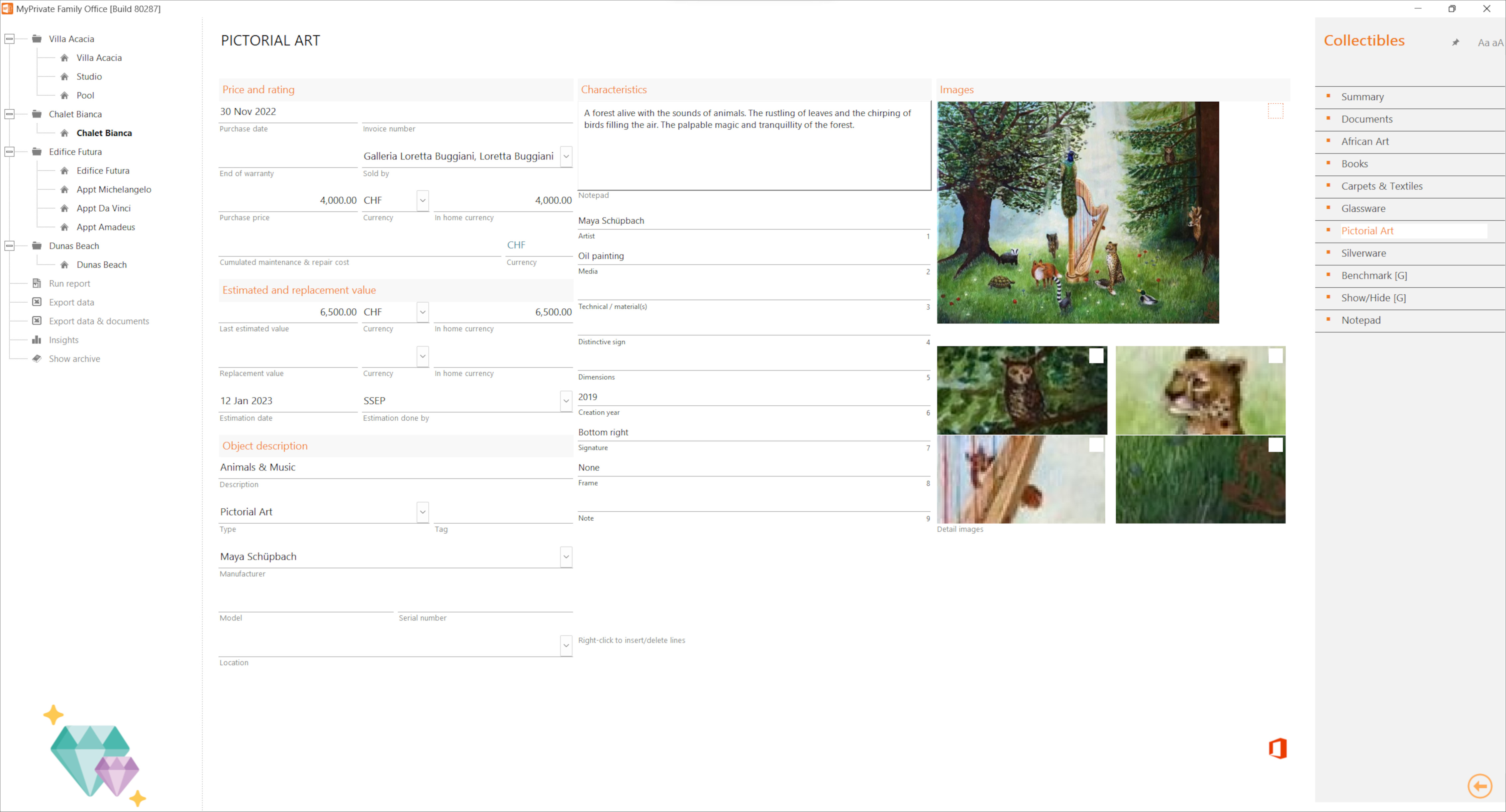 The module "Collectibles" is used to record detailed information on your valuables. This is particularly important where high-value objects of unique nature are concerned, such as carpets, paintings and timepieces.
MyPrivate helps you by providing the appropriate taxonomy for each of these, and covers the 25 main categories of valuables and more than 250 attributes that are generally registered.
You will start by entering your objects as part of the household, including general information such as vendor, warranty, purchase price, etc. Household objects that are marked as "valuable" will automatically appear in the "Valuables" module under their respective tab, with the corresponding taxonomy information to be collected.
Besides taxonomy, you can also track evaluations performed by professionals, including who provided the service, at what date, estimated value and replacement value.
For each object, you will be able to add detailed pictures as generally required, such as punches, signature and other distinctive signs.
MyPrivate will provide you with four valuable tools to manage your valuables as follows:
A worksheet to support data collection for your items
An insurance appraisal report for submission to your insurance broker to support claims in case of burglary, loss or damage
A tax appraisal report supporting your tax returns
A succession appraisal report to be used for equitable and harmonious distribution to your heirs when the time has come
The following tabs are available in the 'Valuables' module
Summary
Documents
Silverware
Glassware
Asian Art
African Art
Furniture
Carpets and textiles
Pictoral Art
Sculptures
Books
Watchmaking
Jewellery
Jewellery / Stones
Jewellery / Colored stones
Jewellery / Pearls
Coins / Medals
Coats
Leather goods
Writing instruments
Fossils
Dishes
Lighting
Electric trains
Wines
Icons
Porcelain
Musical instruments
Weapons
Cameras
Notepad